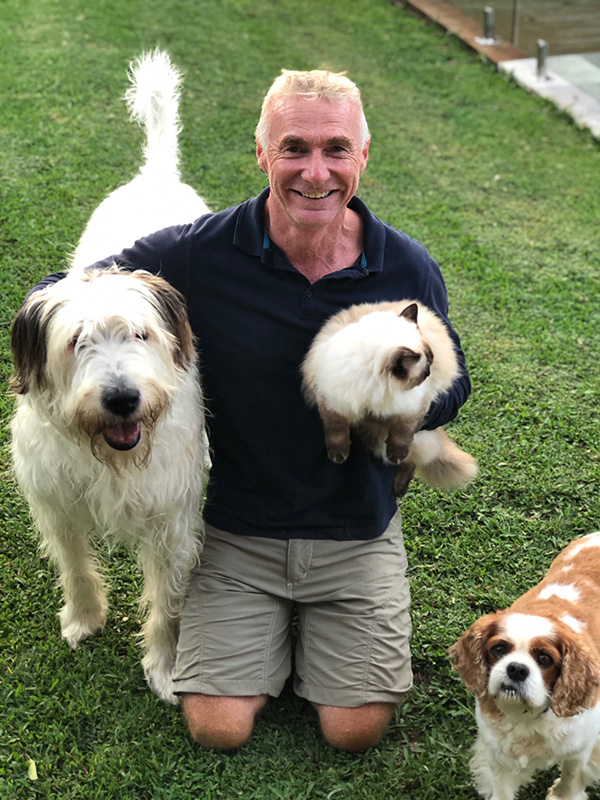 Dr Simon Roberts
BVSc
Simon is one of the principal vets of Struggletown. He is a 1989 graduate of Sydney University, has worked in the Hunter Valley, 4 years in the UK, and then joined Struggletown in 1996. He enjoys all areas of general practice and sees pet ownership as one of the best experiences life has to offer. Simon's wife Sarah runs our puppy classes and they have two daughters, Tully and Skye and a son, Toby. Their house is run however, by Cargo ( a 55kg Wolfhound cross ), Bingle (Cavalier King Charles Spaniel) and 4 naughty cats, Oscar, George, Lenny and Lilly.
Outside of practice, Simon spends most of his time as a bus driver/supporter for his kids, dog walker for Cargo and Bingle and surfing when possible.
He works Monday, Tuesday evenings, Wednesday, Friday and one Saturday per month.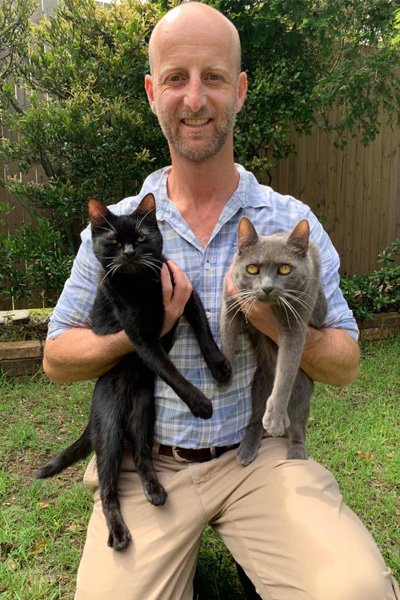 Dr Antony Kery
BVSc (Hons 1)
Antony is one of the principal vets at Struggletown. After graduating from the University of Sydney in 1999, he worked in mixed practice in the hunter valley for 2 years, 2 years in the U.K and then returned to Sydney to eventually join the Struggletown team in 2007. Antony really enjoys the huge diversity offered by working as a veterinarian and he has a special interest in oncology, neurology and opthalmology completing further studies in all these areas. Antony is very busy at home with his 2 young children Ivy and Jared, as well as his 2 mischievous cats Drama and Turtle.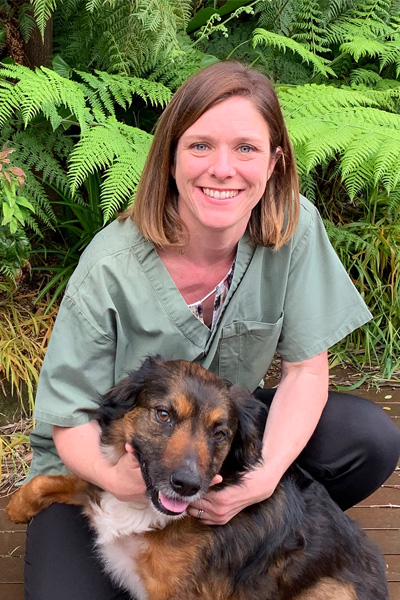 Dr Lucy Walker
B.Vet.Med. MRCVs
Lucy is a graduate of the Royal Veterinary College, London. She worked in a mixed practice in England before migrating to Australia. She worked in mixed practice on the Central Coast before joining us at Struggletown and has now been part of the team for 12 years.
Lucy has a keen interest in small animal medicine and has completed a distance education course in this area.
Her hobbies include riding, swimming and walking her Jack Russel Terrier 'Georgie'.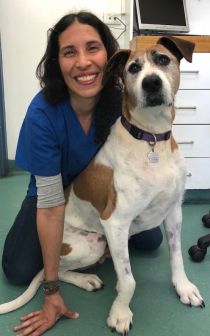 Dr Maayan Tourel
BVSc
Originally from Israel Maayan moved to Melbourne with her husband and Boxer "Bruno" in 2006 to study veterinary science at Melbourne University. After completion she worked in a busy small animal practice for two years before having two beautiful daughters.
Her and her family relocated to Sydney in 2013, and after locuming at vet clinics around the eastern suburbs Maayan joined the Struggletown team in 2013. Maayan has a keen interest in pathology and has a soft spot for Boxers.
Maayan is kept very busy by her daughters Noam (4) and Maya (2) along with her husband Yoav and Irish Wolfound mix "Rutie". In her spare time she loves nothing more than spending time with her family and cooking.
Maayan is fluent in Hebrew and English.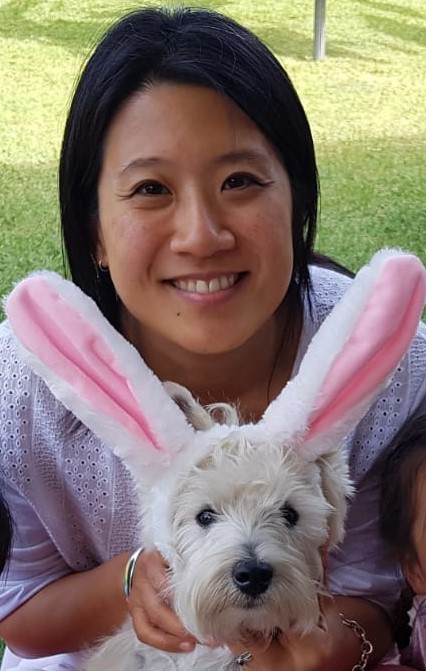 Dr Irene Ellis
BVSc (Hons 1), MANZCVS
Dr Irene Ellis graduated from Bachelor of Veterinary Science with Honours Class 1 at the University of Sydney in 2004. Irene has gained 15 years experience by working at the RSPCA Yagoona prior to joining the team at Struggletown Veterinary Hospital. Irene is a Member of the Australian & New Zealand College of Veterinary Scientist (Small Animal Medicine) by examination and is experienced in small animal diagnostic imaging, medicine and surgery.
Irene enjoys spending time with her family and her West Highland terrier Molly who was rescued from a puppy farm. She also owns 4 cheeky rescue chooks.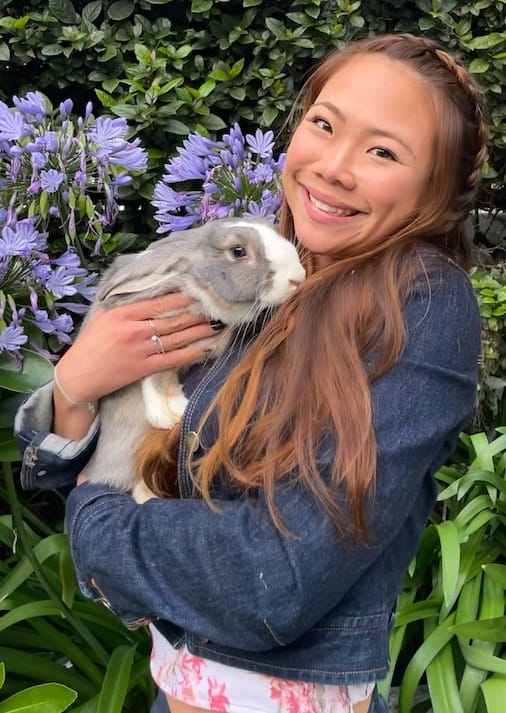 Dr Cheryl Chan
Dip VBS, BVB, DVM
Dr Cheryl, a proud owner of a giant (still growing) rescue bunny, (Thumper) completed her studies with The University of Sydney and has since worked in small animal practice.
Dr Cheryl's calling came when she was seven, growing up with a Cavalier x Papillon (Patches) who lived till 20years of age!
She has special interest in Small Animal Internal Medicine, Oncology and Surgery.
Beyond her work, she represents Singapore in the Women's 3000m Steeplechase track event and has an absolute love for marine life which she explores through scuba diving.
Dr Cheryl is fluent in English and Mandarin.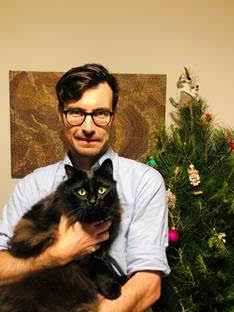 Dr Andrew Neutze
BVSc (Sydney)
Andrew graduated from Sydney University in 2010 and has been working in small animal practice in Sydney since. Andrew has a special interest in emergency medicine and has undertaken postgraduate study in this area. He also has developed an interest in imaging and ophthalmology. Andrew is currently studying to complete his Master's degree through the University of Edinburgh in Advanced Clinical Practice.
Outside work, Andrew likes spending most of his spare time with his wife Kate who is currently studying to become a paediatric gastroenterologist at Westmead Children's Hospital. Andrew has a one-year-old cat called Newt (pictured being stopped from chewing on the Christmas tree) and when not at work enjoys spending time with family, hiking, camping and mountain biking.
Email
reception@struggletownvet.com.au
Hours:
Mon to Fri: 7:30am – 9:00pm
Sat: 9:00am – 5:00pm
Sun: 9:00am – 1:00pm
Providing Quality Vet Care Near:
Randwick, Coogee, Kingsford, Daceyville, Kensington, Bronte, Waverley, Queens Park, East Gardens, Pagewood, Hillsdale, Maroubra.