WIRES 1300 094 737
SYDNEY WILDLIFE 02 9413 4300
We provide free first aid for sick and injured wildlife in association with the above wildlife charity groups. There is no charge for this service, but a donation to one of the charities above is always appreciated.
Please remember that the above organisations are entirely run by volunteers and can get very busy in spring/summer, so please be patient when trying to get thought to them.
While waiting for a rescuer or taking an animal to a wildlife carer or vet please Cover the animal with a towel or blanket.
Try to keep the animal calm and safe by placing it in a cardboard box or covered cage if you are able. Ensure the box or cage is secure so the animal can't escape.
Put the box in a quiet undisturbed dark place and do not offer any food or water unless advised by a vet or wildlife rescuer.
If it is an orphaned young animal or a bird, it will need to be kept warm.
Keep any pets and people well away from the area to reduce stress from sight, noise or handling.
With the warmer weather, comes the chance you will happen to come across a baby bird on the ground. Many people are not sure of what to do with baby birds. Birds can appear to be orphaned when in fact they are just learning to fly. It is best to leave the bird alone and just observe its surrounding. Their parents are almost, always nearby keeping a close eye on them. It can take birds up to two weeks to learn to fly properly once they have left the nest. They'll often hop around the ground for quite a while. It is best to keep your pets away. If you think the fledgling may be in danger, it should be put in a safe place off the ground, ideally in a tree or shrub. Of course if they are sick, injured or abandoned, please call a wildlife carer.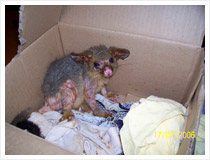 A Possum suffering from stress dermatitis and malnutrition before treatment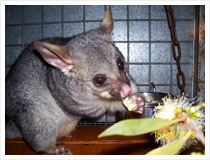 The possum after 6 weeks of treatment by WIRES and our vets
Email
reception@struggletownvet.com.au
Hours:
Mon to Fri: 7:30am – 9:00pm
Sat: 9:00am – 5:00pm
Sun: 9:00am – 1:00pm
Providing Quality Vet Care Near:
Randwick, Coogee, Kingsford, Daceyville, Kensington, Bronte, Waverley, Queens Park, East Gardens, Pagewood, Hillsdale, Maroubra.